Good Morning and Welcome to the Wonderful World of Wizards Blog Hop.
We have an Awesome line up for you today.
Now if your here from JAMIE then your in the right place, if not you may wanna start at the beginning because you seriously don't want to miss a single creation today.
Jaded Blossom also has Mini Stamp Release Today.
We are offering Free US Shipping for this weekend only for the

Wizards Stamps

.
Also available is a Special Wizard Bundle (Both Stamp Sets) for $25+Free US Shipping
Now on to my Projects
Does this book Familiar, if not here is a little Tid Bit about it:
The book is from the HP movie Prisoner of Azkaban--- the book was for the students in Care of Magical Creatures class. The book is also quite vicious and you could only open your book to use it in one way---you had to stokes it's spine to make it more calm so it would open. Many of the students had issues with the book, including Harry at First.
Side View
Inside
Little Notes
I used the SVG Cutting Files
3D Book Box
and had Ann create the Accessories for my Book Monster.
Since it is a book after all I decided against putting candies in it and made it into a note pad.
I know you are curious so I used fur for the cover of my Book. Michael's didn't have a brown one so I just got the white and dyed it red/brown.
For my Next Project:
I really just couldn't help myself I had to color that adorable Wizard Image, he is just so CUTE!!! So I decided to make a notepad using a small composition book. For this I used Jaded Blossom's My Favorite Wizard and
Candy Charms and Banner Die
.
Twine is Trendy Twine's new Bumblebee that was released yesterday.
$15 Jaded Blossom Gift Certificate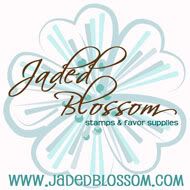 $15 SVG Cutting Files Gift Certificate
1 Spool of Twine Sponsored by
Trendy Twine
And Some

FREEBIE SVG Cutting Files

as you Hop Along, that will be available for

24 Hrs Only

! So make sure you

Hop

along and

Comment

thru all the Blogs for a better Chance of Winning and Getting Em' Freebie Files.
Here is the link to my

FREEBIE

.
Next up on the Hop is

ASHLEY


Hop Line Up

Jaded Blossom

Candace

Ann

Michelle

Gwen

Jamie

Kate

Ashley

Stefani

Jenny

Jaymie

Crystal

Trixie